Saturday, October 11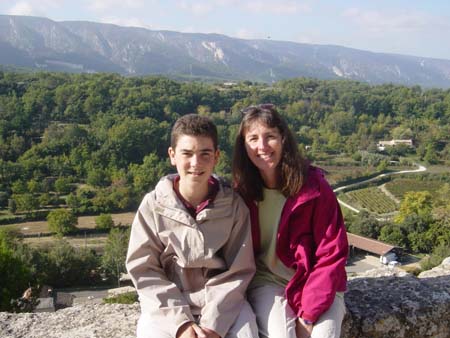 Steve: It was another perfect fall day, and we made the great decision to spend it in the Petit Luberon Valley in the Vaucluse region of Provence. We had seen many beautiful pictures of the Luberon's villages, cliffs, woods and mountains, and we had been looking forward to spending time here. We were not disappointed - this is a wonderful place. In addition to great weather, almost every place we visited today was void of tourists. This certainly helped us get a feel for the quiet charm of the villages their residents. In many ways, the scenery in the Luberon reminds us of Tuscany. The landscape is filled with vineyards, olive groves and farms, and there are wonderful views everywhere.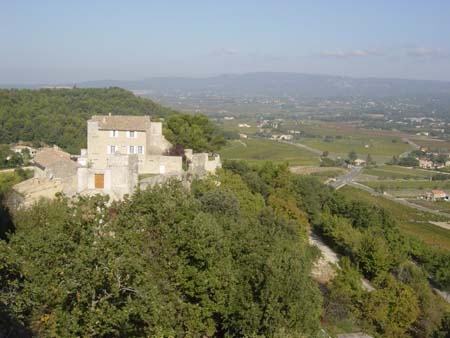 We started by driving to the small hilltop town of Menerbes - this is where Peter Mayle (author of A Year in Provence) lived. Menerbes is a very small and picturesque community, with only a few shops and cafes in its center. As in so many of the towns that we've visited, there are many narrow and winding streets that are wonderful for strolling. In Menerbes, several of these streets provide great views across the Luberon - it's only about a 3-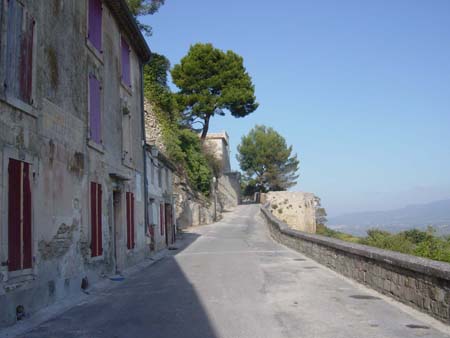 minute walk from one side of the town to the other, and we enjoyed seeing the views from all directions. Near the top of the village, there's a small church and square - it was hard to stop taking pictures from here.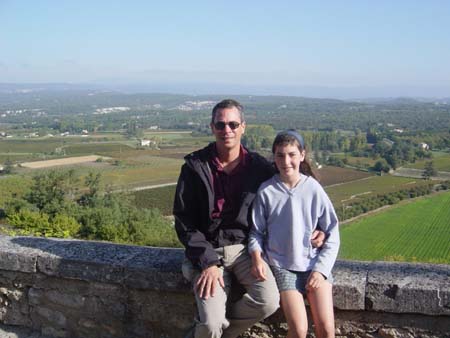 From Menerbes we drove to the town of LaCoste which sits on a hillside. LaCoste is also very charming, and here we enjoyed lunch in a small café (the only one there!) in the center of the little village. The ruins from chateau of Marquis de Sade (famous French writer who was sentenced to death for sexual crimes) are here, and are undergoing major restoration. The views from the chateau are spectacular. LaCoste was also empty today, and we spent time walking through the numerous little streets and gates in the town.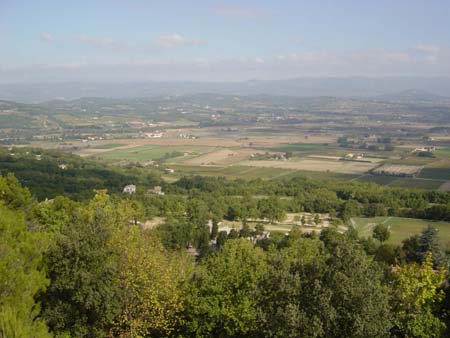 Our next stop was the town of Bonnieux, which also sits along a hill and looks straight across a small valley toward LaCoste. Bonnieux is visible from the road at quite a distance, and we enjoyed the views as we continued to get closer. In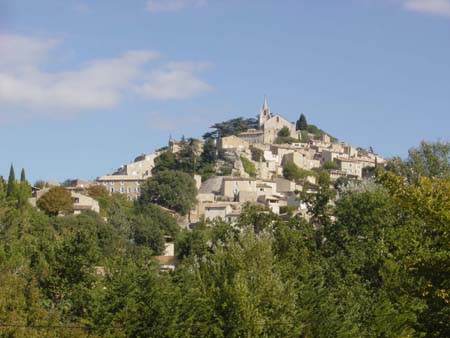 Bonnieux, we walked to the top of the village where there's a church surrounded by huge cedar trees. From here it was possible to see almost the entire Luberon Valley, and we enjoyed locating towns on the map and spotting them in the distance.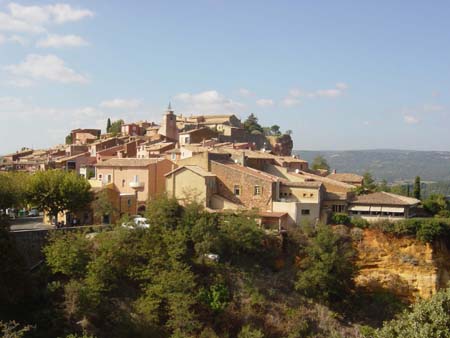 Our final destination was Roussillon, a stunningly beautiful village located on the other side of the valley from Bonnieux. Roussillon is perched among huge deposits of ochre, and is painted entirely in shades of pigments from the ochre. There are at least 17 shades of earth tones that have been used, and the village blends in harmoniously with its surroundings.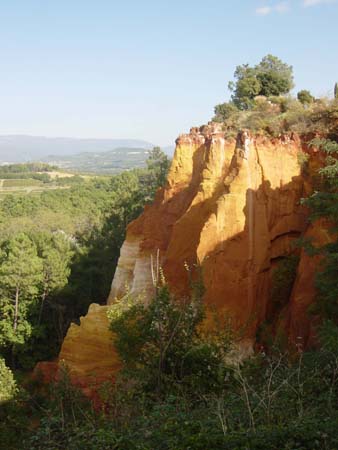 The shops in Roussillon sell everything imaginable in ochre-colored tones, including pottery, paintings, clothes, and the actual pigments that were used here. We had never seen anything quite like this, and just loved walking through the streets - the earth tones make everything feel very warm. From the top of the village, it is possible to see cliffs and other large areas of ochre - quite a sight!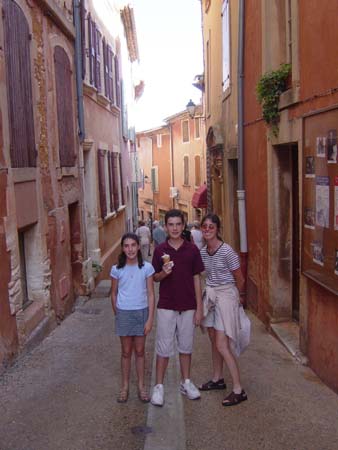 After exploring the village we walked through the old ochre quarries that are located nearby. There is a marked trail here that winds through many interesting and beautiful ochre formations. Here we could see a wide variety of earth tones, in a wonderful and sharp contrast to the evergreens and blue sky. We spent a long time simply wandering through here, admiring the dramatic cliffs, colors and scenery.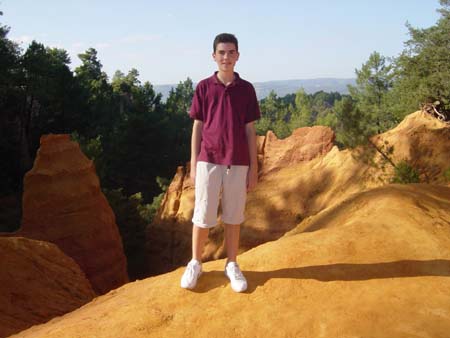 We had a great day today, but there are several towns in this area that we plan to come back to explore on another day. Days like these seem to pass too quickly, and by the time we were done in Roussillon, it was almost 6:00 and we were hungry and getting tired…
Tomorrow we have tickets to see the "Filane du Championnat de France de course Camarguaise." These are the championships of an vent where men in white clothes must remove flags from between the horns of running bulls - should be fun!
Distance Walked: 4.84 miles