Saturday, July 19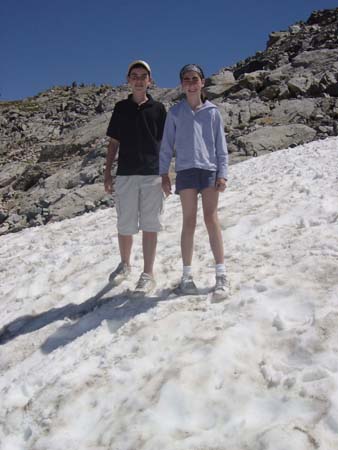 Today we did another spectacular hike in the Chamonix valley, this time on the other side of the valley looking back across to the Mont Blanc range. This hike involved taking two cable cars to a point called Brevent, and then hiking down and along a ridge to another cable car at a place called Flegere. We did the hike in 3 ½ hours, including a picnic lunch that we enjoyed at Planpraz, the midpoint.
The weather was perfect again (we haven't seen a cloud since we've been here!), and we had a great view of the entire Mont Blanc range for most of the hike. It was fun to be able to see exactly where we hiked yesterday. We also had fun playing in the snow fields that still remain up around the Brevent area.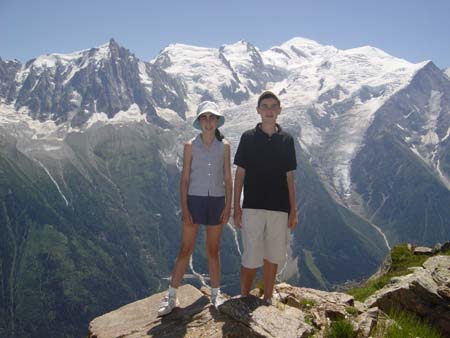 Brevent is a prime place for hang gliders who take off from a cliff near the cable car. Today there were probably 15 hang gliders at any time soaring over the valley. We've been amazed at how long they stay aloft, constantly turning and riding the air currents up and down. They land in a small field down in the valley, and it seems like they have the ability to defy gravity indefinitely.
We also saw a number of rock climbers along the hike. Some of them were ascending a vertical cliff near the top of the hike - pretty amazing! We see climbers everywhere we go, and they're always carrying very official-looking equipment. There are several shops in towns that specialize in rock climbing equipment.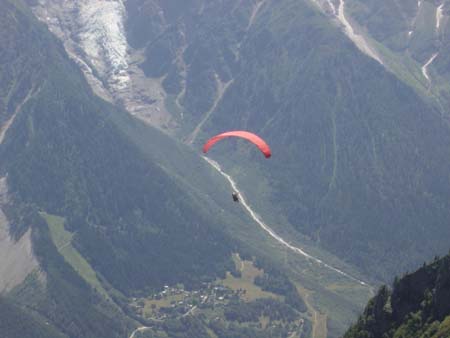 There were mountain bikers on the trails today, barreling down the slopes at speeds that seemed ridiculous. They wore pads all over, and we assume that falls are fairly common given their speeds and the very rocky terrain. The riders take their bikes right up on the cable cars, and obviously enjoy the thrill of riding down the mountains.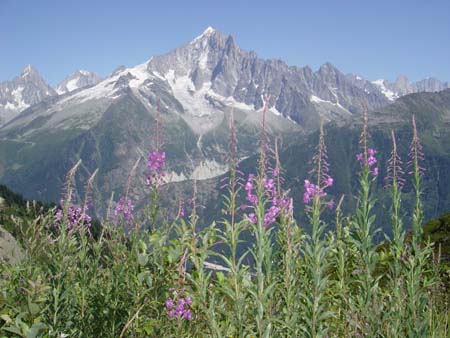 After finishing our hike, we took the cable car down from Flegere and caught a bus back to the Chamonix center, and walked back to our hotel. We came back exhausted and hungry, and will probably tackle a shorter hike tomorrow, probably at the other end of the valley.
We've enjoyed the spectacular scenery around Chamonix, but find the town too busy for our tastes. Most of the people are French, and obviously come here for their summer vacations. We've met very few Americans here. ~Steve
Distance Walked: 7.45 miles