Thursday, July 10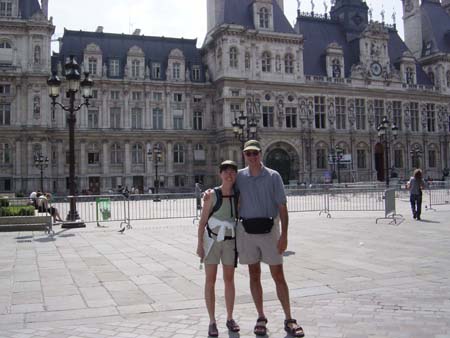 We got another late start today, and all slept in before catching breakfast and taking the Metro to the Notre Dame cathedral. On the way to Notre Dame, we stopped to see the Hotel de Ville which is Paris' City Hall. We then walked the rest of the way to Notre Dame, stopping on a bridge over the Seine to take pictures and take in the view.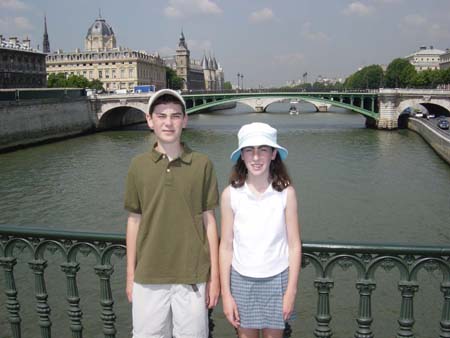 ~Steve
Notre Dame was even more spectacular than I had expected. The combination of Gothic architecture, statues and gargoyles was truly amazing. I especially liked the gargoyles, which darted out of the cathedral and seemed to be protecting it. Inside was even more marvelous. Three beautiful stained glass rose windows, along with many other stained glass windows created a great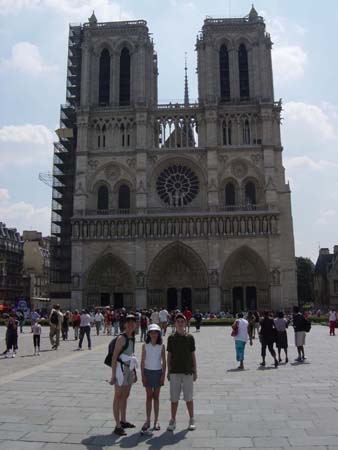 effect. Inside you could also find a huge 7,800 pipe organ and carved wooden stalls. This cathedral was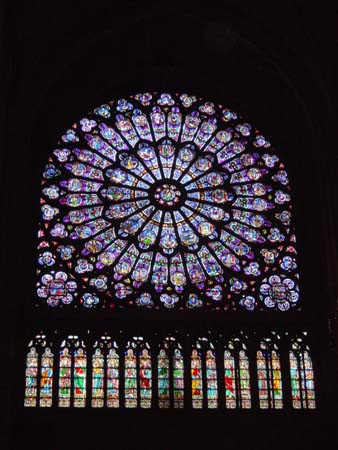 built on the site of many other churches including a Gallo-Roman temple (some two millennia ago). It began in 1163, and can accommodate over 6,000 people! This was really cool and was a great learning experience. ~David
After Notre Dame, we went to a small but famous impressionist art museum called the Musee d'Orsay. The building itself was artistic with columns enclosing famous paintings. It also had many statues, archways and enormous clocks which made it a special place to be. We primarily viewed the paintings by impressionist artists that we knew a fair amount about such as Monet, Van Gogh, Cezanne, Pissaro, Renoir, Degas and several others. The museum had a very large collection of Monets and Van Goghs, most of them considered their best works. It was really exciting to walk into a gallery and see an original painting you had seen so many photographs and reproductions of.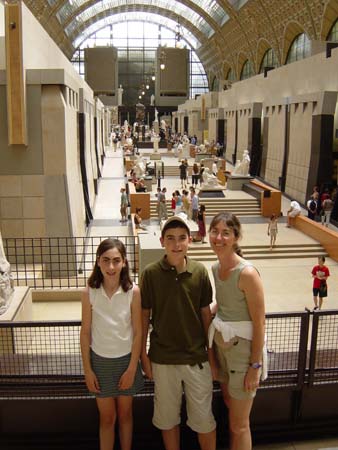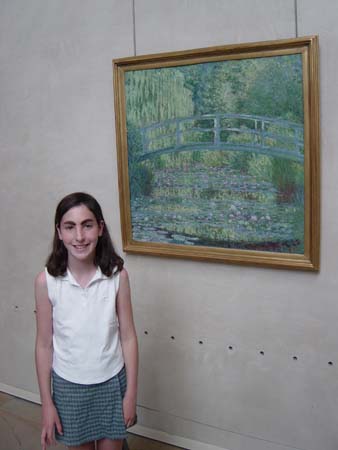 I was especially interested in Monet's paintings of the Ruen Cathedral at different times of the day. When you got really close to them they just seemed like random blotches of color with no form. As you slowly backed away it began to form into the famous cathedral. It was interesting to see how this wonderful artist exhibited the cathedral's beauty. I had a clear vision of Notre Dame (a similar cathedral) in my head from having seen it earlier today, which made the paintings especially meaningful. I really enjoyed this museum which has now become my favorite on the trip so far. I can't wait to go to the Louvre! ~Katie
We planned on dinner, and then a river cruise on the Seine. However, after enjoying a great dinner at a small French restaurant (L'Epi d'Or) several blocks from our hotel, we were all much too exhausted for anything else, and decided to call it a night. This was our first experience with a restaurant where none of the help spoke English, so it was a very interesting experience for us all (and we're sure a sign of similar things to come as our travels progress). ~Steve
Distance Walked: 4.27 miles