Wednesday, April 28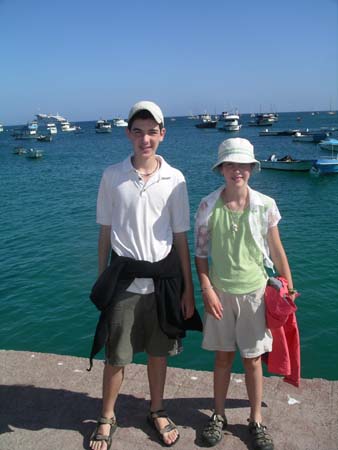 Steve: Goodbye to the Galapagos Islands. This was definitely one of the highlights of all of our travels. We leave feeling unbelievably fortunate to have experienced such a special world. The wonder of the Galapagos is not just its beautiful and amazingly tame wildlife, but also the unique geologic history of these very young islands. This is someplace that everyone should have the opportunity to experience at least once in their lives.
We made a brief visit this morning to the Galapagos Interpretation Center on San Cristobal, and then had a couple of hours to spend in the town before heading to the nearby airport. Our flight back to Quito was uneventful, and this evening we spent time getting ourselves organized for our upcoming 4-day trip to the Amazon Rainforest. Tomorrow we will spend the day exploring Quito (we've now been to Quito on several different occasions, but have never actually spent time exploring the city).
David's Daily Dump: Our Galapagos Experience. I am sure that I will never forget the past week we have spent on the incredible Galapagos Islands. It's been an absolutely unforgettable experience for me. I loved every bit of our trip, from playing with sea lions, to filling up the camera with tons of blue-footed booby pictures. I will always remember the huge inflated balloons of the frigate birds, and the amazing marine iguanas. Swimming with turtles, penguins, sea lions, and sharks was unbelievable. But the most amazing thing of all, which made all of our adventures extraordinary, was how tame all the wildlife was.
I can't explain how amazing it is the first time you actually come within 12 inches of a blue-footed booby, or come face to face (literally) with a baby sea lion in the water. I knew that we were going to be getting close to the wildlife beforehand, but I never could have imagined how tame the animals really were. It's unbelievable. I like to call it"science and evolution in action." These animal's ancestors had never seen humans in the past, and never developed the instinct to be afraid. Now millions of years later, although damage has been done, these creatures still don't feel the need to run for their lives when they encounter somebody.
Seeing this archipelago and all the incredible things that it has to offer makes me want to help protect it so that it will never be lost. It is terrible seeing the sea lions resting on the rocks right by the towns, or watching the birds flying around buildings which used to be their homes. I hated seeing all the introduced vegetation, and especially all the cows grazing in the fields. But through all the sadness and stories of extinction, there is hope. It's amazing seeing the animals and learning about how they have evolved. It's an experience that can't be described in words and something that shouldn't go unseen in a lifetime.