DAVID'S DOWNLOADS
David's Download: My Impressions of New Zealand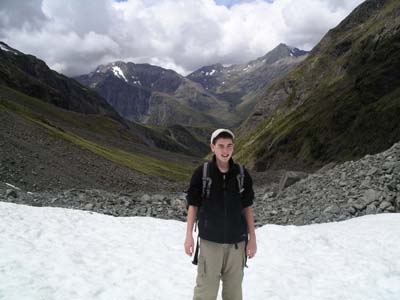 David's Download: I greatly enjoyed the time we spent in New Zealand. It was "magic," as kiwis put it. I especially liked the magnificent scenery, with the snow-capped mountains, lush rolling hills, and meandering freshwater streams. I really loved everything!!!!
We got a great sense of the South Island by visiting almost every region. The thing I was most fascinated by was how different each place was. Arthur's Pass was wet with huge sheep farms and pastures. I will never forget watching Skip, the sheep dog, herd over 50 sheep into a small cluster. Lake Moreaki was also extremely wet, but was in the middle of a rainforest! I remember kayaking on the flat lake and fishing for the first time. Wanaka was experiencing a drought, and was very dry. Dunedin was on the east coast and was extremely dry and humid. The east coast generally gets very little rain, because the weather systems come in from the west and dump all of their rain on the west coast, leaving the east coast dry and arid. I loved seeing all the rare wildlife in Dunedin. Although I did like the countryside, I didn't enjoy Auckland very much because of how difficult it was to walk and explore the city.
We also learned a great deal about New Zealand history, culture, and wildlife. I especially enjoyed studying about Maori culture and all the unique animals. I read a book titled the Whale Rider which was the story of a young Maori girl, and even watched the Whale Rider DVD that we brought along. We also saw a Maori performance where we learned about the ancient culture, and saw many dances including a war dance called the "Haka."
I loved seeing all the different wildlife in New Zealand including the Royal Albatross, Kea, Sea lion, Fur Seal, and Penguin. It's one thing to see these animals in a zoo, but to see them in the wild is a totally different story. I will never forget seeing the huge albatross circling the hilltop, watching the blue penguins all come ashore at the same time, running into a gargantuan sea lion, and learning the love-lives of Yellow-Eyed Penguins.
One of my favorite things that we did in New Zealand was fish. We bought inexpensive fishing rods and a couple lures on our way to Lake Moreaki. We took advantage of every freshwater lake, pond, and stream that we came across during our travels. Although I did not catch any fish, I did have lots of fun trying and wishing that I did catch something.
I have enjoyed New Zealand more than any other country we have visited on the second trip!!!!! (Note: it's the only country we have visited on the second trip so far)