Friday, March 26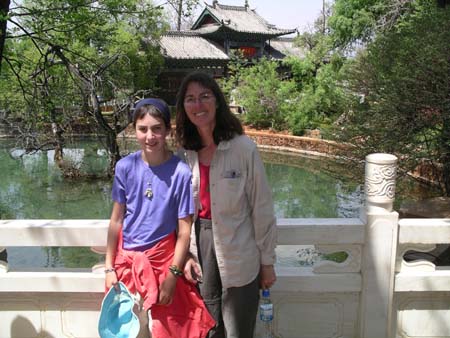 Paula: After a morning of rest and wandering through Lijiang's old city, we headed to the Black Dragon Pool Park which provides a beautiful view of the mountains in a serene atmosphere. The park surrounds a clear pond which is feed directly by snow melting in the Jade Dragon Snow Mountain. The fish residing in the pond are considered holy and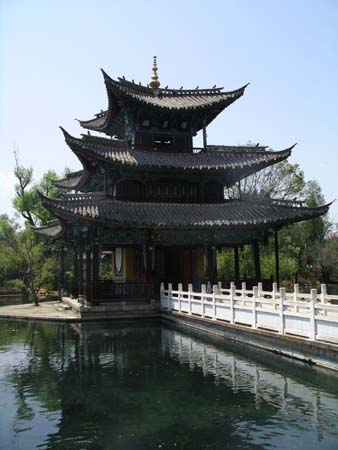 Panjingmieg told us that even during the Cultural Revolution, when many local people were starving, no one dared eat the fish. A pavilion from the Ming dynasty graces the pond as does a temple combining Bai, Naxi, Han and Tibetan architecture. This temple is important to the Naxi who each March pray for rain during a festival at the temple. Before leaving the park, we listened to Naxi music played on traditional instruments. These instruments were almost all destroyed during the Cultural Revolution. Fortunately, many farmers buried their instruments to protect them and this music has been preserved.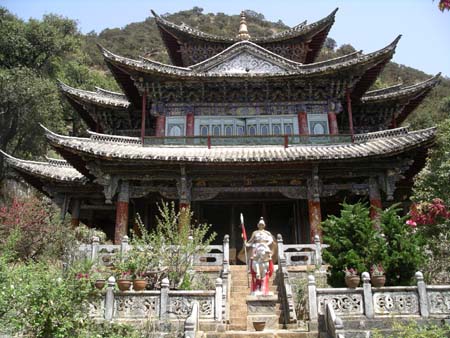 We also walked through a Naxi cultural museum and Panjingmieg shared more about her Dongba (Naxi) culture. The culture places great importance on nature and its mystical qualities. Panjingmieg shared several with us several Naxi beliefs that reflect a superstitious component in the culture. For example, no visitors sleep in the home of someone who has died for at least one year. We also learned that the Naxi people consider Chairman Mao god-like because during their recent earthquake a large statue of Mao remained standing, while all the surrounding buildings collapsed.
We spent the rest of the afternoon exploring the small village of Huang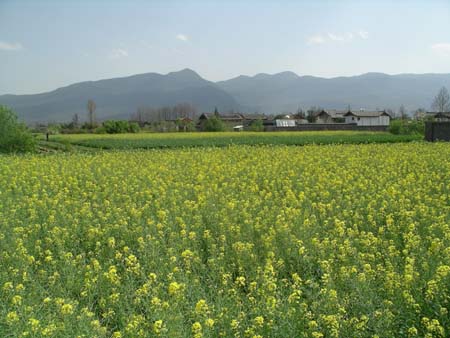 San. For much of the time, we visited women working in the fields and had fun helping them with their work. We harvested and bundled wheat, scooped water to prepare soil for planting chili peppers and used a small machete to cut grass for the village cows. In return for our labors, we were invited to share a meal at a local home but gracefully declined. It is always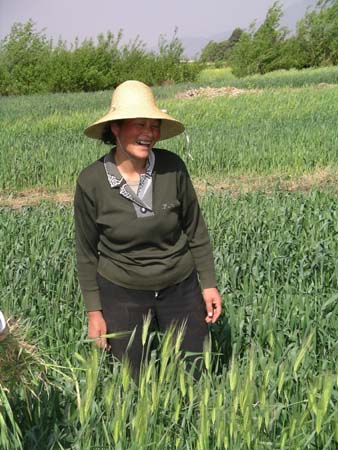 difficult to refuse such invitations because the local people often feel that by hosting us they will have good luck. We reassure them that their willingness to share their day-to-day experiences is a wonderful gift to us and trust that this alone will bring them good fortune. Panjingmieg enjoyed working the fields as much as we did and she serenaded us with traditional Naxi songs as we worked.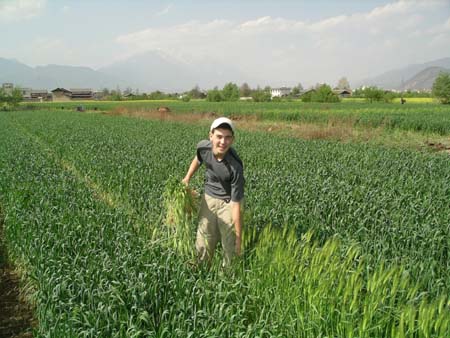 We also walked through several of the village's homes. Each has open courtyards thriving with animals. We had fun feeding the cows and pigs. We even saw piglets that couldn't have been more than a few days old. As we were leaving one of these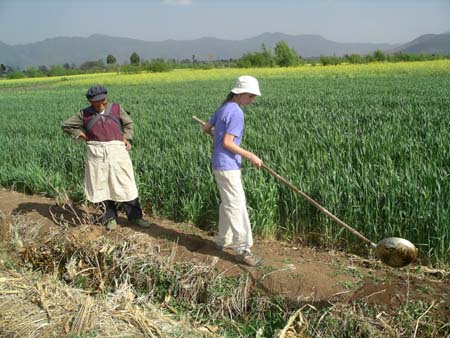 homes, the family cow broke its rope and made a mad dash out the home's front door. We couldn't help but laugh as the entire family took off down the street to chase her. As we prepared to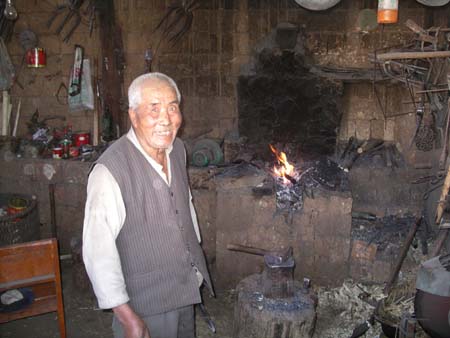 leave the village, we had a nice conversation with the village blacksmith as he pounded away at a piece of hot iron. Upon learning we were Americans, he smiled and told us, "You have lots of money. I don't have so much but I have enough."
Tomorrow we are off to our final destination in China, Gyalthang (also called Zhongdian). Zhongdian is touted by some as the real Shangri-La and we are excited about exploring this town on the Tibetan Plateau.