Monday, March 15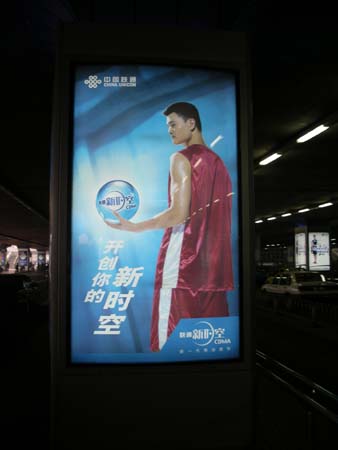 Paula: Today was a travel day to Beijing. It was also our final time in the Bangkok airport - we've been in and out of there five times! The Thai Airways flight was fine, and we arrived in Beijing right on time this afternoon. By the time we got to our hotel in the center of Beijing, it was time for dinner and we didn't think we would have much to write in our daily journal. In fact, we even considered not doing an entry until after our tour of the city tomorrow. But after a wonderful meal in a local restaurant and an exciting walk in the area around our hotel, we decided that the evening's events had to be recorded.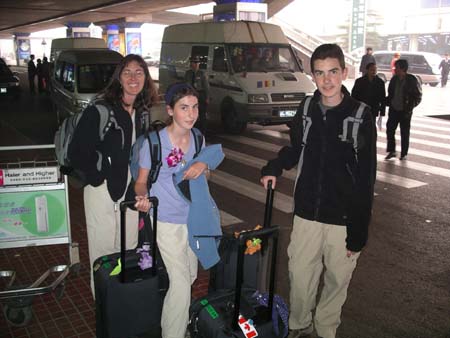 We quickly got a feel for Beijing as soon as we arrived in the airport which was sparkling and appeared brand new. Everything from immigration to baggage claim and customs was well organized and efficient. We were immediately surprised by the amount of advertising that confronted us - perhaps this was partially because we have been in Cambodia for the last week. One of the first advertisements we saw featured a huge picture of Yao Ming, the NBA star from China.
Our guide, Shu, quickly helped us into our van and told us to expect a long commute to the hotel since it was rush hour. He explained that the traffic in Beijing is a problem because there are 12 million people, 2 million cars and millions of bicycles. We immediately noticed two differences between the traffic here and in our Southeast Asian stops: there are no motorcycles and there is a separate lane just for bicycles. The traffic patterns, while heavy, are orderly! Signage of the roads is clear and includes English translations. Shu told us that motorcycles are not common because they are taxed heavily to discourage their use. He also told us that only 15% of the population can afford a car and that most people in China use bicycles.
We saw lots of tall apartment buildings, which Shu told us were increasingly becoming too expensive ($120+ per square foot). He told us that people in the city feel they have to work very hard now to afford private property (something that has only been possible since 1998). We hope to learn more about the recent changes here from Shu over the next few days. Everywhere we looked, there were new buildings under construction and large cranes. We read an article in the Bangkok paper yesterday stating that China is importing huge quantities of scrape metal from the United States to feed such construction and we saw evidence of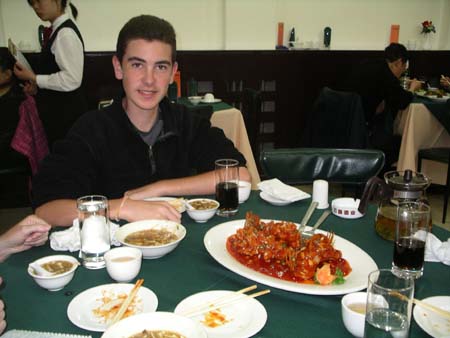 this reality all around us.
After checking in to our hotel, we had dinner in a nearby restaurant recommended for its Shanghai cuisine. Although the waitress spoke only a little English, she helped us select some of the best dishes. We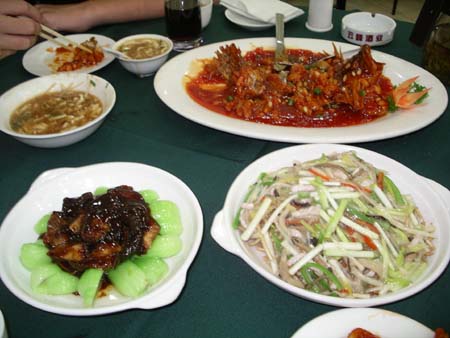 enjoyed wonderful selections of pork, fish, fried noodles, shrimp and a spicy soup. The staff showed us how to serve each dish and kept our cups full of hot green tea.
After dinner we decided to walk to the shopping district just a kilometer from our hotel. Neon lights and large modern shopping malls quickly surrounded us on both sides of the street. Many of the establishments were all too familiar -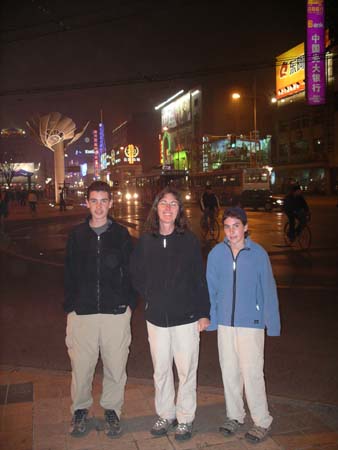 Nike, Reebook, McDonalds and Starbucks, but it was fascinating to see their advertisements written in Mandarin Chinese! The streets are neat and clean. Several people approached us trying to sell services as guides or asking for money.
We had also been told of an interesting food market in the area and decided to explore. David had been a little reluctant before dinner (prob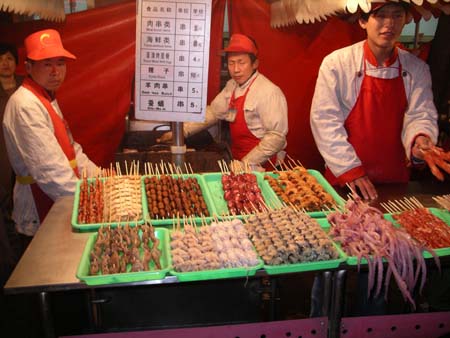 ably because he was so hungry), suggesting that we have seen so many markets on the trip that we didn't need to see another - boy was he in for a surprise! We have seen many markets and many different kinds of foods but nothing like this. We walked along a row of stalls which all appeared to be selling kebabs - then we looked a little more closely and discovered these kebabs are quite unique. We saw kebabs with squid, octopus and even beetles - these we have seen before but these vendors also sell snake, scorpions, grasshoppers, starfish and even goat testicles! The vendors were all encouraging us to try something new - we decided just to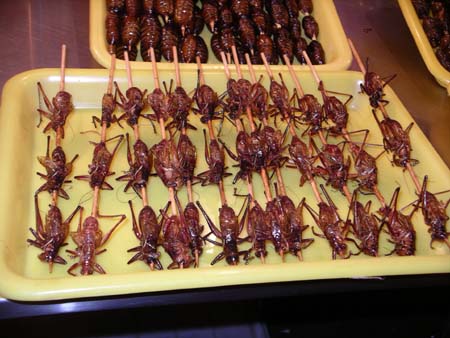 look and write down a log of all our choices. David's download below provides the detailed menu. While there were a number of other tourists gawking along with us, there were many more natives actually purchasing and eating these items right in front of us!
It was quite an experience and we laughed about it all the way back to our hotel looking forward to what other interesting things lay ahead for us in China.

David's Daily Dump: Beijing Night Market. Tonight after our first real Chinese meal, we visited a Beijing night food market. We weren't sure what to expect, and definitely weren't prepared for what we were about to see…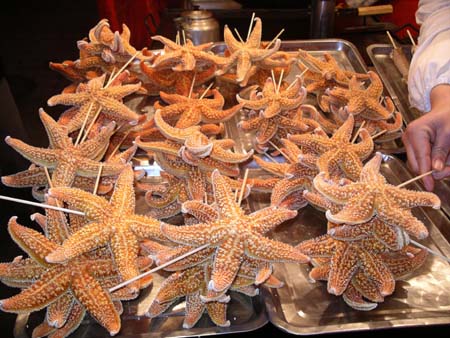 As we strolled down the parade of red lighted circus-style open air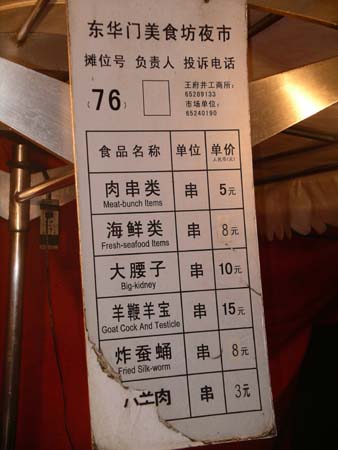 food stalls, we saw some of the most amazing things being cooked, fried and eaten.
There were crickets on sticks, larvae, fried beetles and scorpions, snake, fried silk worms and even roasted frog!!!! We saw Chinese munching on shish kebab star fish, sea horses, octopus, small roasted lobsters, and internal organs like stomachs, hearts, kidneys and amazingly testicles!!! YES, goat testicles!!! One menu advertised "Goat Cock and Testicles!" It was absolutely sickening!! We also saw a sign for fried pimples but had no interest in discovering what those looked like!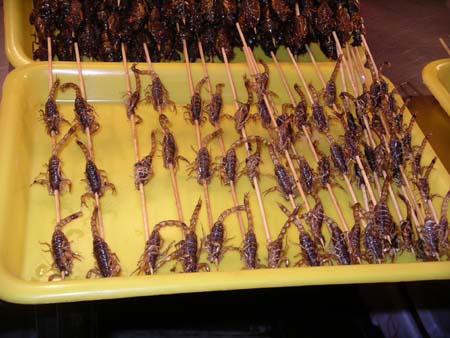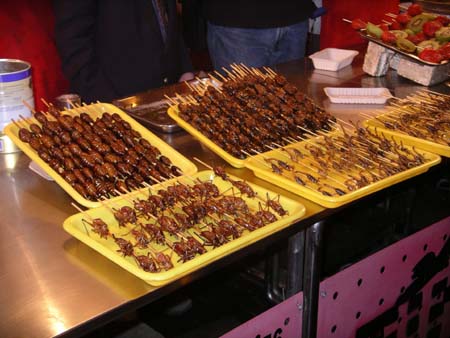 Tonight was our first real encounter with gross Asian foods. Although it wasn't particularly pleasant it was fun to look at all the disgusting things that were being fried, I am looking forward to seeing more weird foods in china and am getting ready to try goat testicles tomorrow evening (NOT)!!!