Tuesday, July 29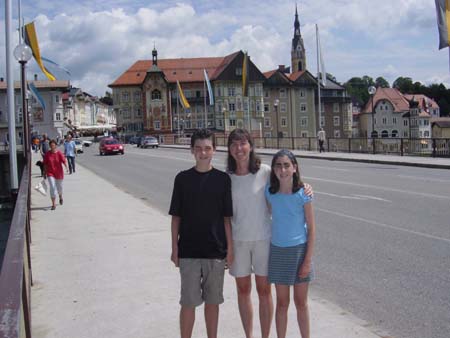 Steve: After a morning of taking care of errands and enjoying one last walk through the Bad Tolz town center, we departed for Salzburg in Austria. What we expected to be a 90 minute drive turned into a 3 ½ hour marathon trip due to…. traffic! It seems like many Germans like to vacation in Austria, and the roads were packed. So much for the speed of the Autobahn. Actually, we found the Autobahn to be much tamer than we expected. We drove at around 120-130 km/hour, which was normally fast enough to keep up with traffic. Occasionally, we were passed by cars that were going at extreme speeds - I learned to keep an eye out behind us to know when they were coming. Once we were used to it, the Autobahn didn't seem all that crazy…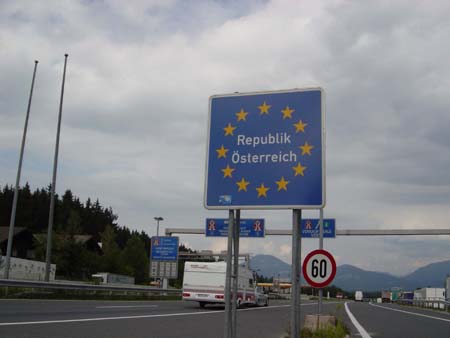 The border between Germany and Austria is not patrolled, which was a disappointment to the kids - we were hoping to get our passports stamped in each country we visited. Instead, all they have is a "Welcome to Austria" sign, similar to what we'd see as we cross between states at home. After the welcome sign, there are all kinds of warning signs that let us know that we had to buy an obligatory toll sticker that enables us to use the roads in Austria… some welcome!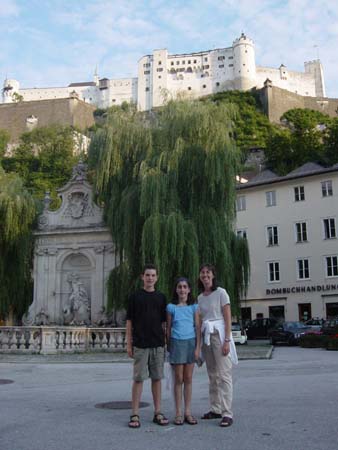 We finally arrived in Salzburg late in the afternoon, checked into our hotel (The "Wolf Hotel"), and walked through the Old City. The town is extremely picturesque, and we're looking forward to exploring it more over the next couple of days. After dinner, we enjoyed seeing Salzburg's fortress, fountains and buildings all lit up. There were also large numbers of people in the main square watching an opera that was projected on a huge outdoor screen.
Paula and I were here in 1982, and Paula returned in 1999. My memories so far are not very good - the town does not look at all familiar to me. Paula's memories are much better. We're looking forward to exploring the town and surrounding countryside more tomorrow. We are also planning on attending a concert tomorrow evening, and will make plans for this in the morning.
Distance Walked: 1.61 miles